1 Day Tiananmen , Forbidden City +,Mutianyu Great Wall
Tour Code:BJD-04
Attractions: Tiananmen , Forbidden City +,Mutianyu Great Wall
Duration:1 Day
Departure:You Choose!
Pickup:about 8:00am at your hotel
Finish:about 5:30pm at your hotel
Service:Private tour guide & driver + Private car/van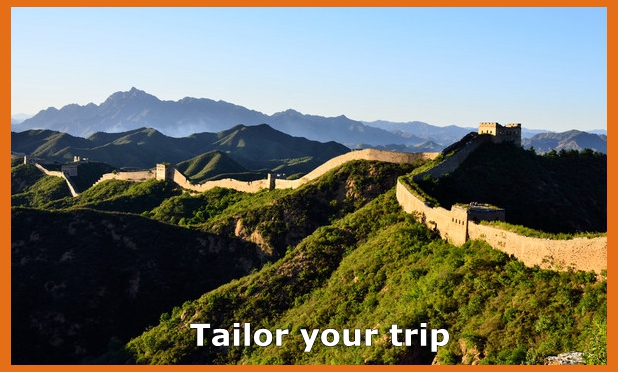 Itinerary
Pick up from your downtown hotel in Beijing and have half day excursion to the Mutianyue Great Wall (2 hours) , the most beautiful section of the all 5 sections of the Great Wall in Beijing. The hike takes about 2-3 hours. It has an extemely beautiful natural landscape once you are up on the wall, green, densely wooded. This section of the Great Wall is comparatively smoother than most of other sections.
After lunch, head back to the downtown Beijing to Forbidden City ( 2 hours) . The Forbidden City is the Chinese imperial palace from the mid-Ming Dynasty to the end of the Qing Dynasty. For almost 500 years, it served as the seat-bed of the Emperors in Ming and Qing Dynasties as well as the ceremonial and political centre of Chinese government.
Then visit Tiananmen Square (40 minutes), the largest public square of this kind in the world. Located in the heart of Beijing City, it is the site for massive parades and rallies, which is the largest square of this kind in the world. This was the site when in 1949, from a rostrum on Tiananmen (the Gate of Heavenly Peace), Chairman Mao proclaimed the establishment of the People's Republic of China.
Transferred back to your hotel in Beijing.

Please contact one of our travel consultants for the most detailed quotation. We ensure the BEST price.


You don't have to waste your time in waiting for the Forbidden City tickets like most of other tour gourps do as your tour guide will book the tickets for you on-line in advance from the management office of the Forbidden City and this service is only opened for several registered partners of Forbidden City
You don't have to waste your time in waiting for the Shuttle Buse most of other tour gourps do as we have the license cards can let us driving directly to the closest parking lot just under the foot of the Great Wall mountain.
You May Also Like: